---
Embrace Foundation is a non-profit, educational
foundation set up to create better understanding
between people of different religions, cultures,
traditions and world philosophies.

Embrace Foundation works to bring leaders and
scholars of world-wide religions, cultures and
philosophies together by sponsoring forums,
seminars, lectures and developing an international
exchange program. Embrace Foundation is
particularly concerned with reaching the world
public through the media.
Embrace Humanity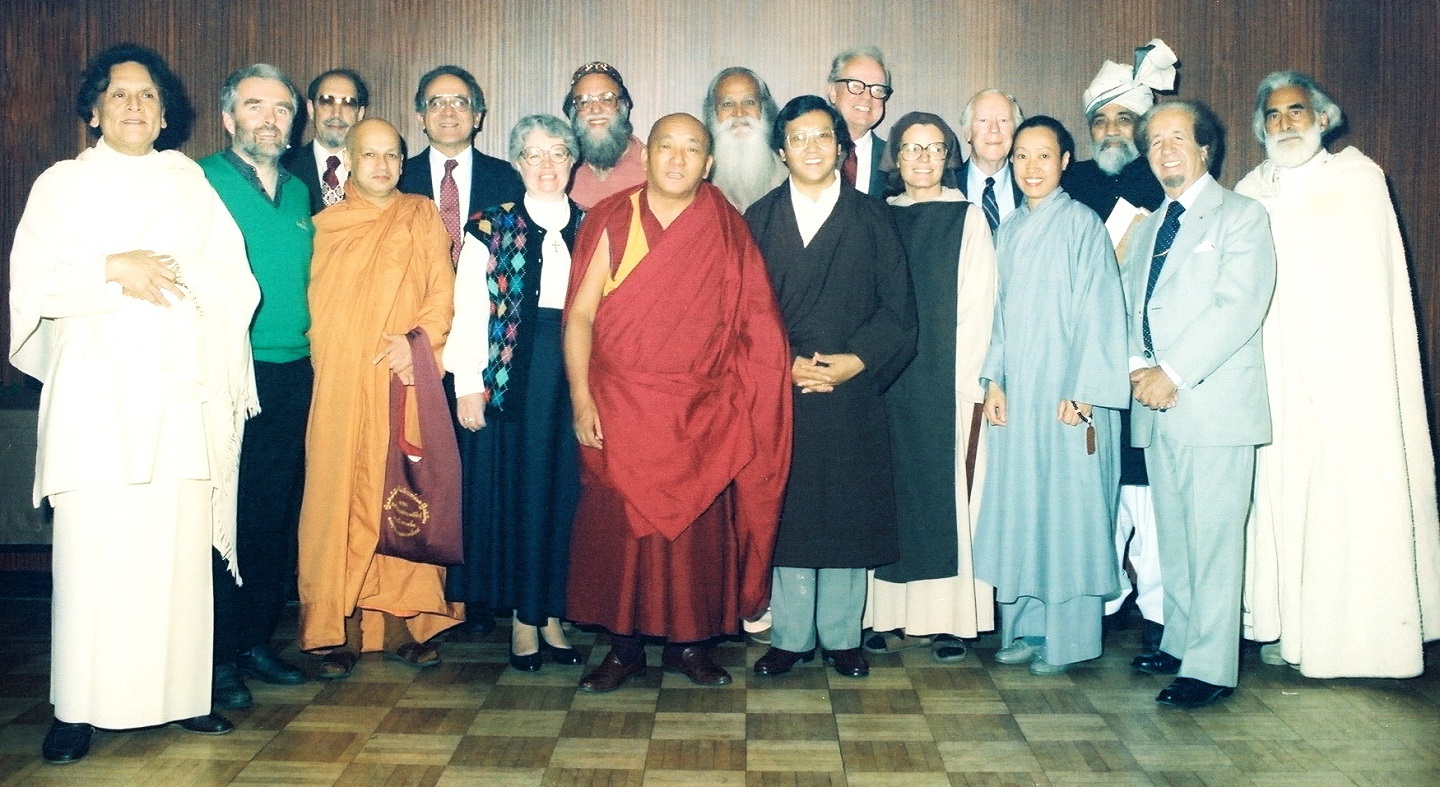 ---
---

WALKING TOUR OF BOOKSTORES IN
SANTA FE, NEW MEXICO, USA

The Embrace Foundation Gallery of Sacred
Places is website of sacred locations,
architecture and pilgrimage places around the
world. All people are welcomed to download from
a computer with a color printer and make copies
of any photo or photos special to them.This
gallery which is also a registry is a means of
keeping a record of locations that humanity finds
Embrace Sacred Places.Org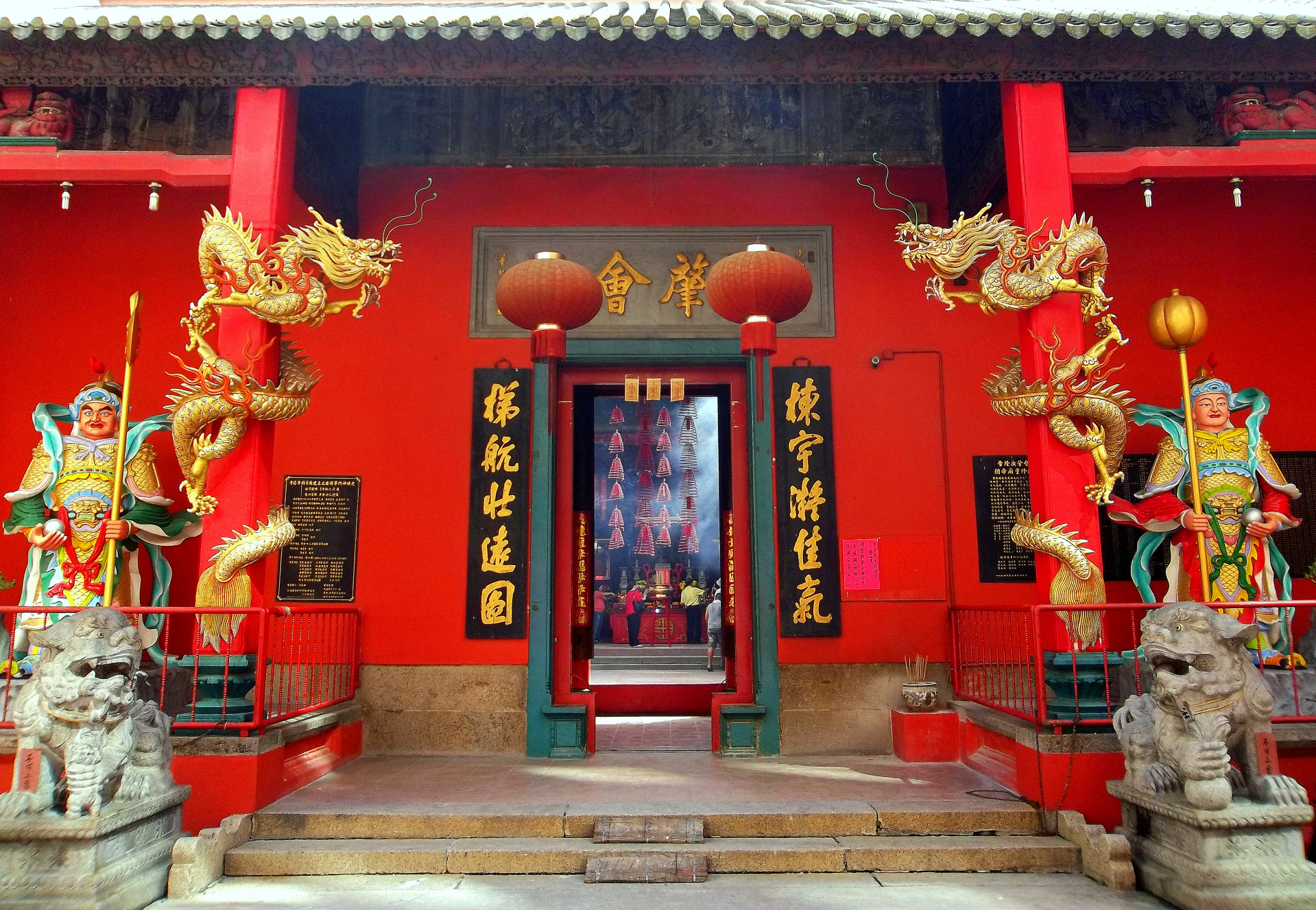 Home l About Books l Book Tourist l Bulletin l Inspired Quotes l Mystic Perspectives l Spiritual Practices l Universal Values l Contact Us



Embrace Foundation is an all volunteer organization. All contributions go directly to programs. We greatly appreciate your support. Embrace Foundation is a non-profit 501(c)3 organization. All donations are tax deductible. A receipt will be emailed to you. Please click on the Pay Pal link to Donate. Thank you !
Embrace encourages all who can do so, to learn
about other traditions and cultures by traveling as
"Grassroots Diplomats." We hope that people
every where become life long students of our
world-wide humanity.

" In every man there is something wherein I may
learn of him, and in that I am his pupil."
R.W.Emerson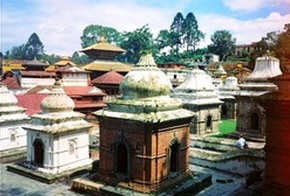 Travel As An Interfaith Act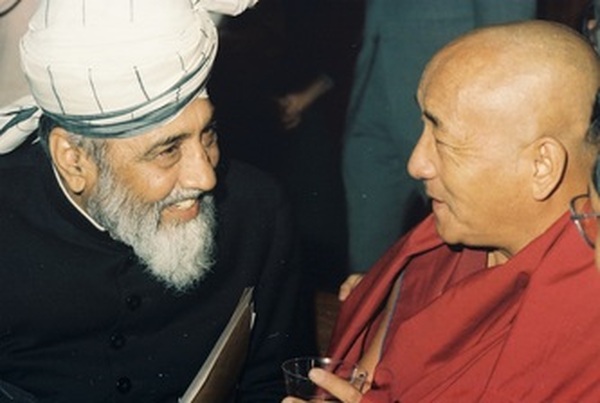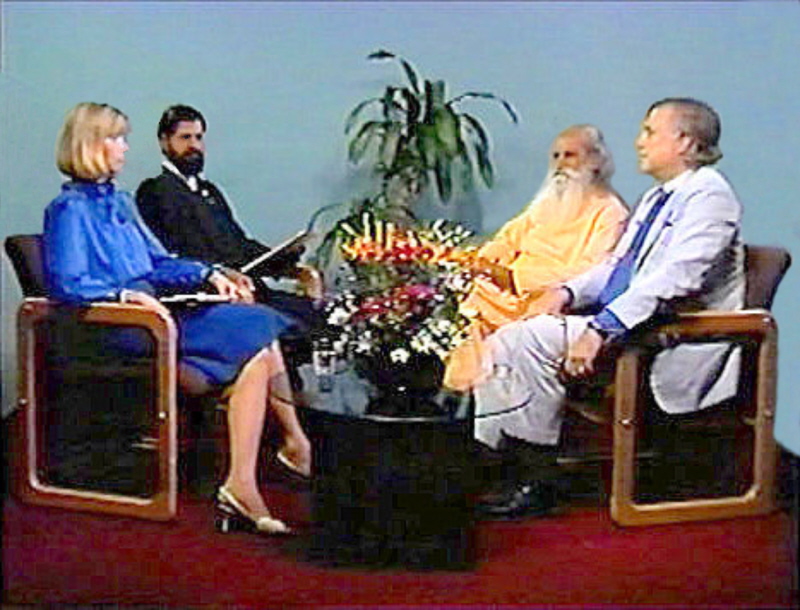 Great Visions - TV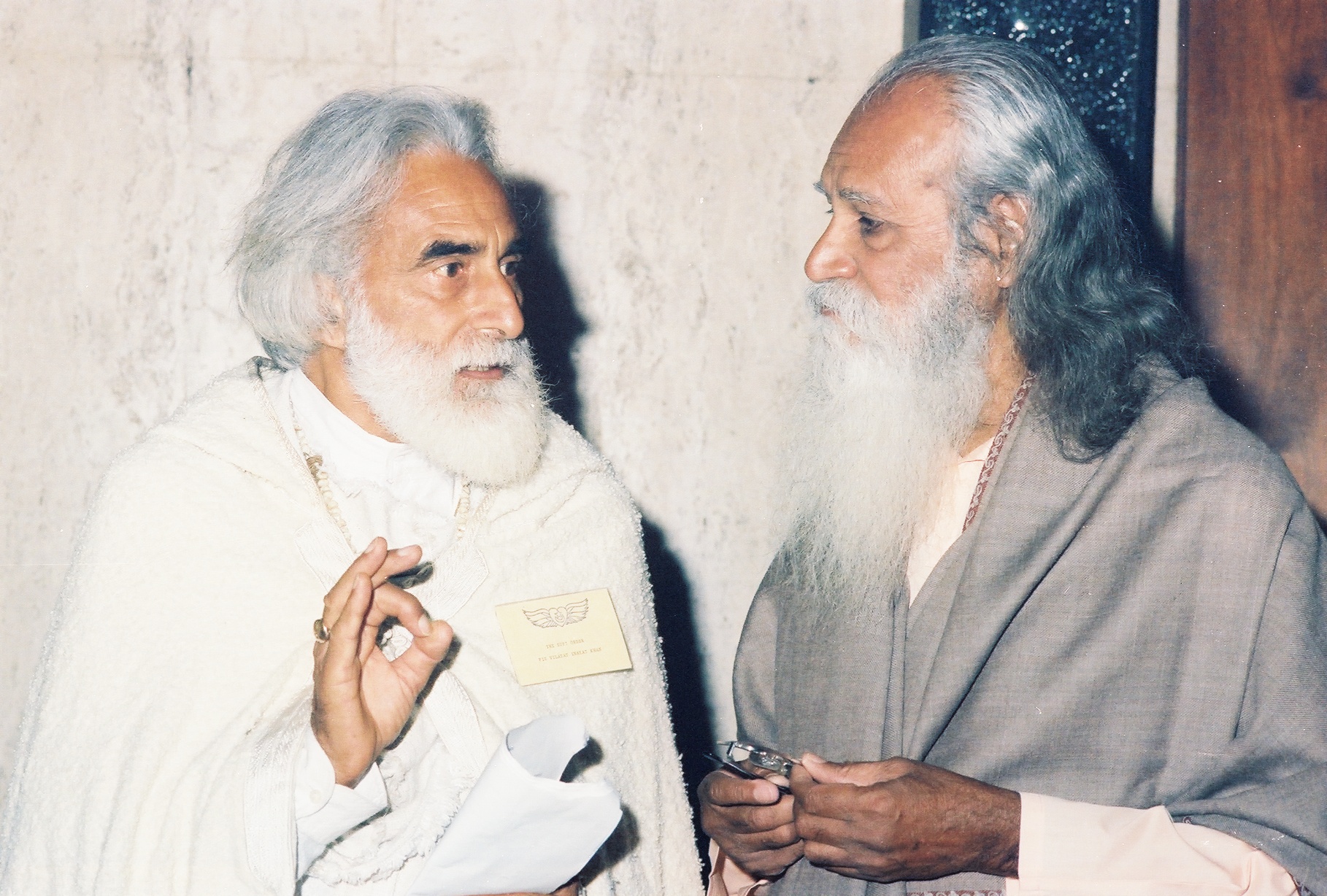 A Delightful, Relaxing and Inexpensive Vacation

A note for our many, many friends outside of the United States, we hope you find this article of interest and perhaps
inspiration. The photos will offer you a brief tour of a new part of the world. One, whose population is largely; one third First
American, one third Hispanic and one third Anglo. New Mexico is a unique state, with a distinct culture separating it from all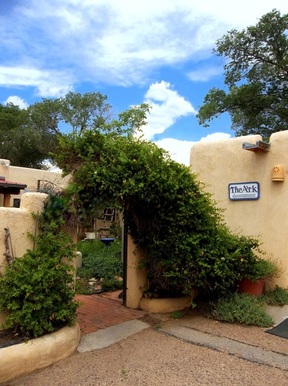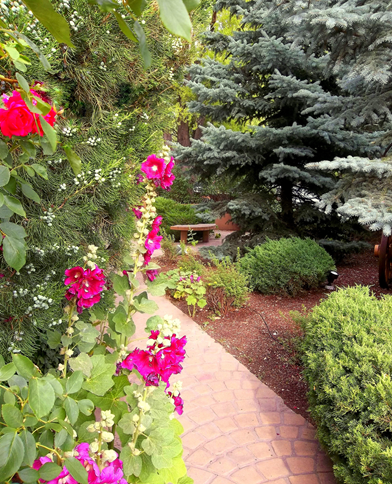 Entrance to The Ark Bookstore
One of many charming gardens
Santa Fe, New Mexico has a unique and wonderful collection of independent bookshops that anyone can visit in a day simply by taking an enjoyable walk. You can rest in a park along the way or on a bench provided throughout the various areas as you enjoy the beauty of flowering gardens, visiting art galleries or by having a coffee or tea at a café. Some of the bookstores even have a café within them and all of them have a café no further than a short block away.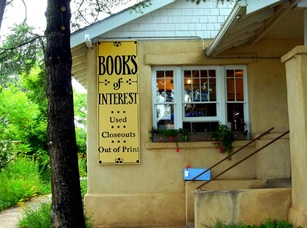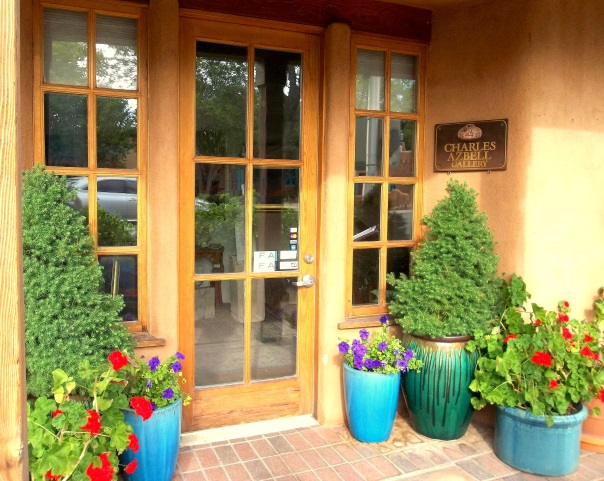 Books of Interest Bookstore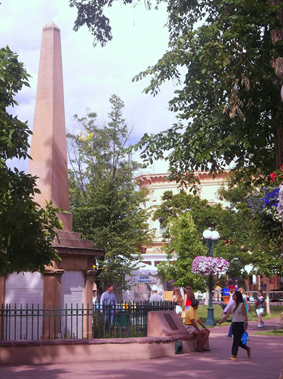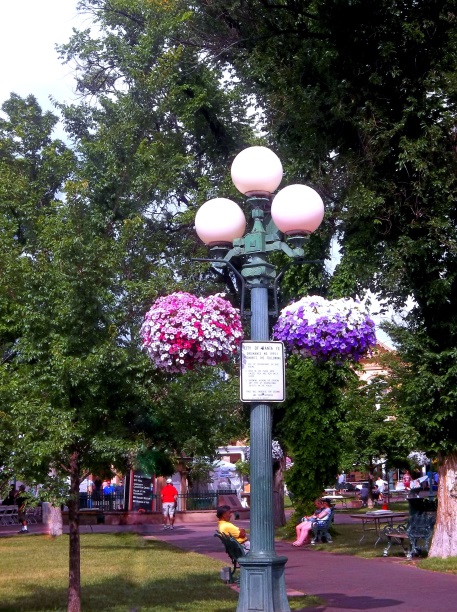 The Santa Fe Plaza in the Center of it All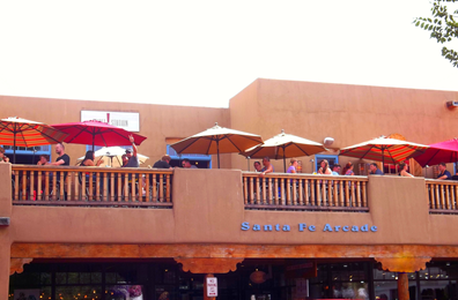 People in New Mexico really love their libraries and use them extensively, so Embrace has included photos of the Main Library and a Historical Library both sit amidst the varied bookstores we've put in this article.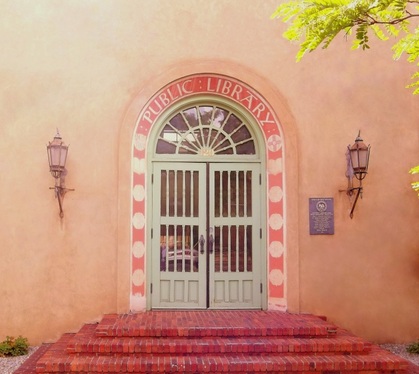 New Mexico Historical Library
The libraries may be places you'd like to visit as well. The Main Library has a magical children's room, so if you have children, and you are visiting, be sure to take them there. On Marcy Street on the side of the library is the ECCO Café.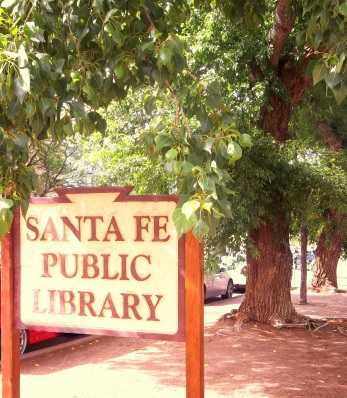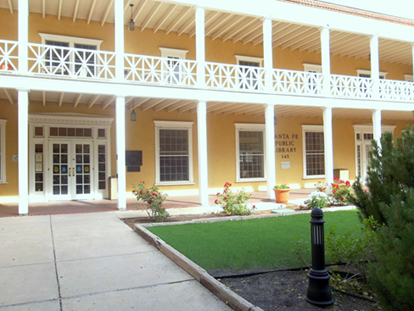 Upstairs is a Magical Childrens Room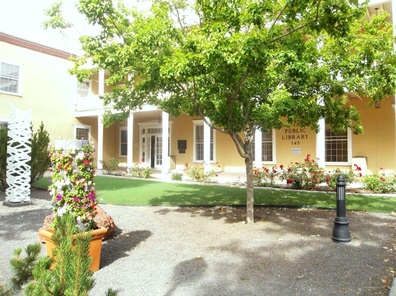 We are including a few sights you will see as you walk around Santa Fe; Art Galleries, public art and New Mexico styled architecture.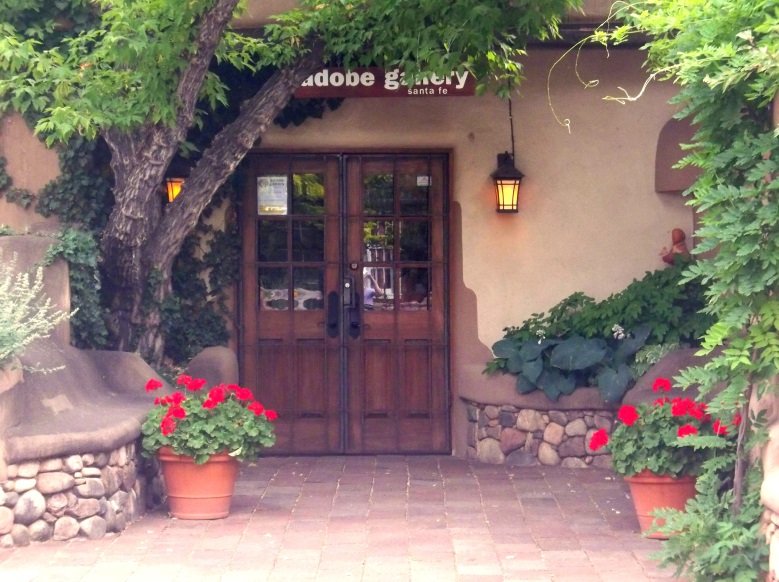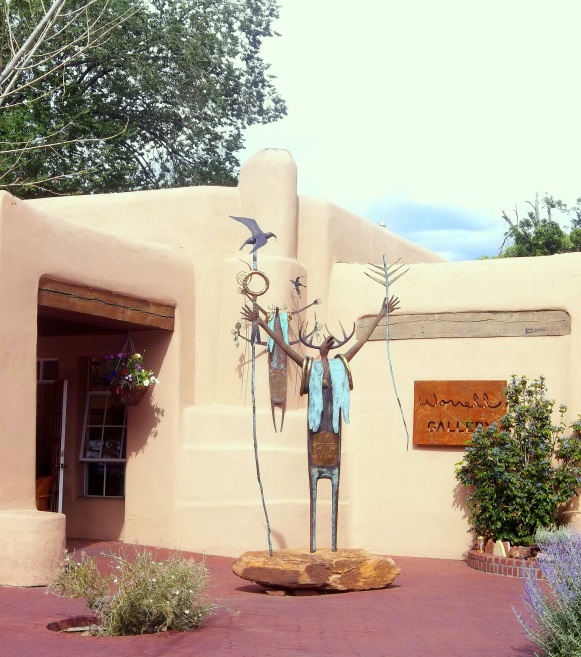 You will find included in this article, a map with the locations of the bookstores and nearby cafes.

ALLA is a Spanish language bookstore with books imported from all over South America. It is a "one of a kind' bookstore in the United States with many books that are very hard to locate. Alla is just a couple of minutes from the La Fonda Café.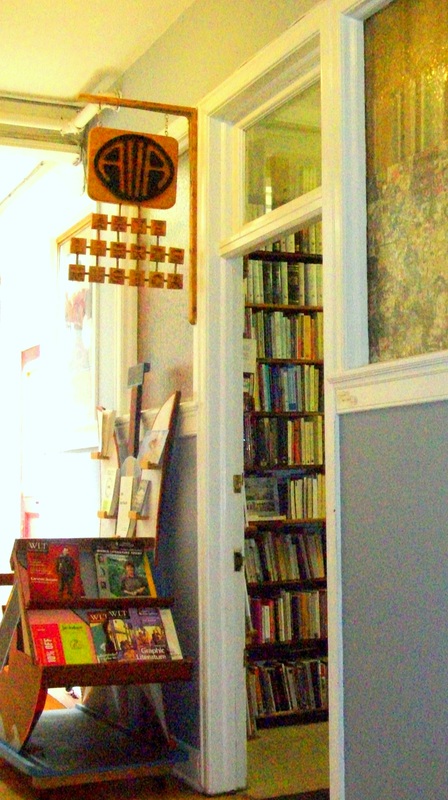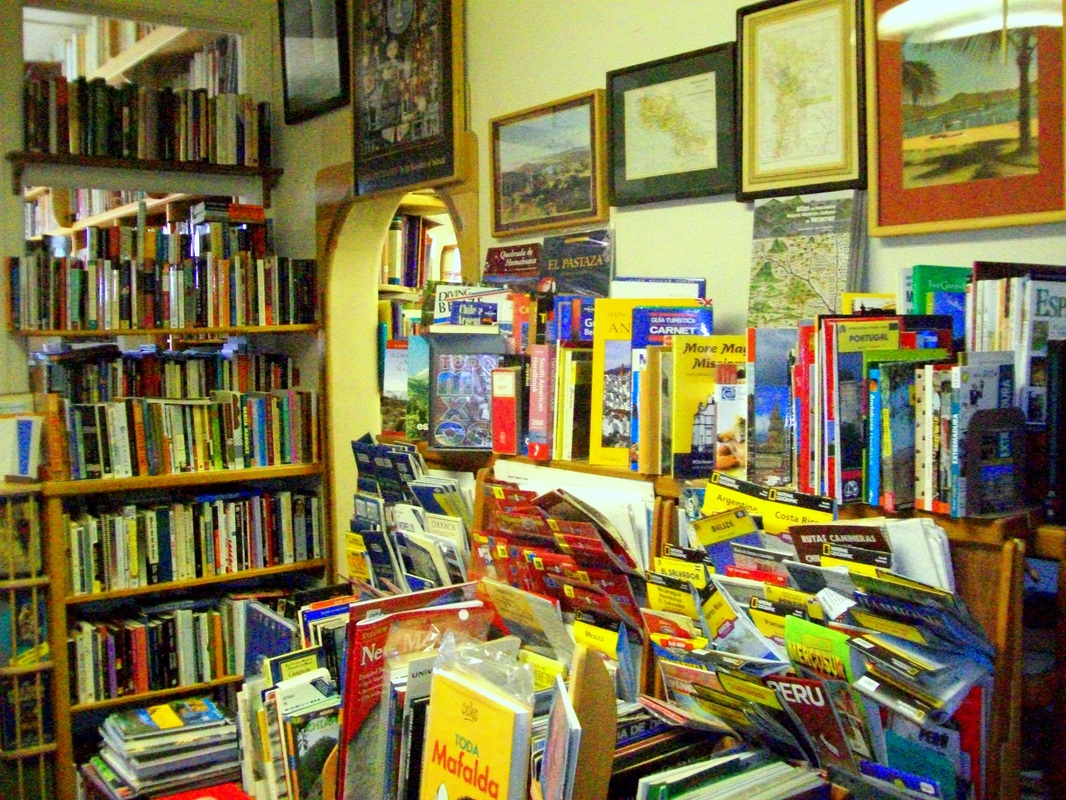 The TRAVEL BUG sells only travel books, has its' own café, prints out topographical maps for hikers. It may be possible to request custom maps and have them sent to you. The Store sells a few travel items such as passport holders, luggage locks and tags etc.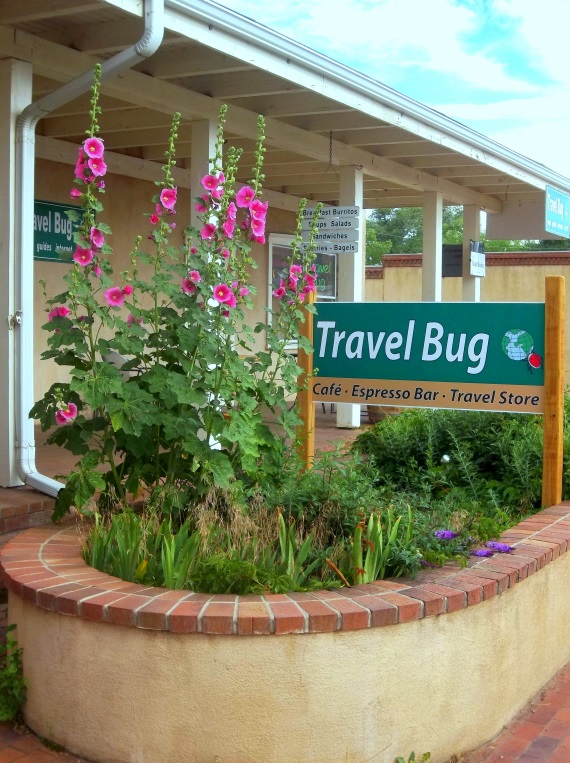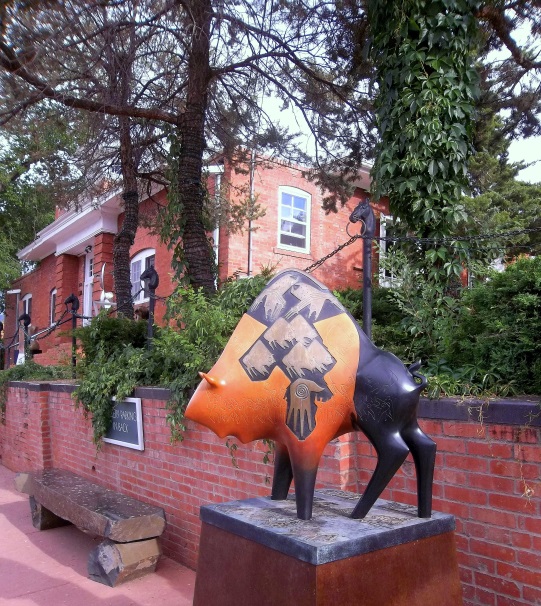 Exclusively TRAVEL BOOKS Bookstore
Public Sculpture of the Sacred Buffalo
Travel Bug Bookstore & Cafe
OP CIT BOOKS has a very large inventory of used books covering many topics. It puts a box of free books by the Sambusco entrance. An old fashioned tradition that is appreciated by many. The Flying Star Café is just down the street less than a 5 minute walk.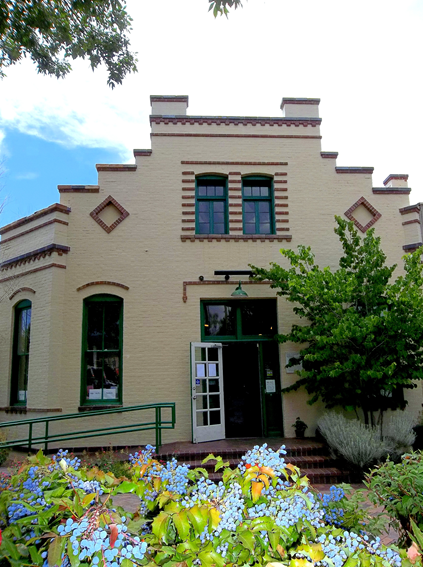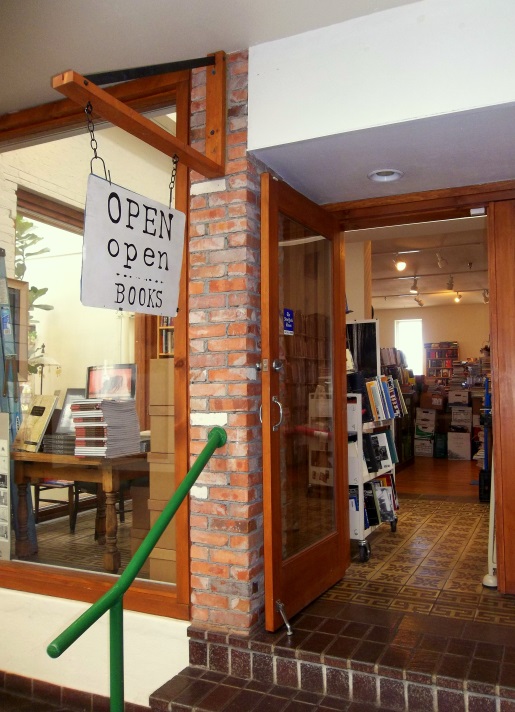 Front Entrance of Op Cit Books
Sanbusco Plaza entrance Op Cit Books
BOOKS OF INTEREST sells a wide selection of used books on many topics. It is less than 5 minutes to the Aztec Café.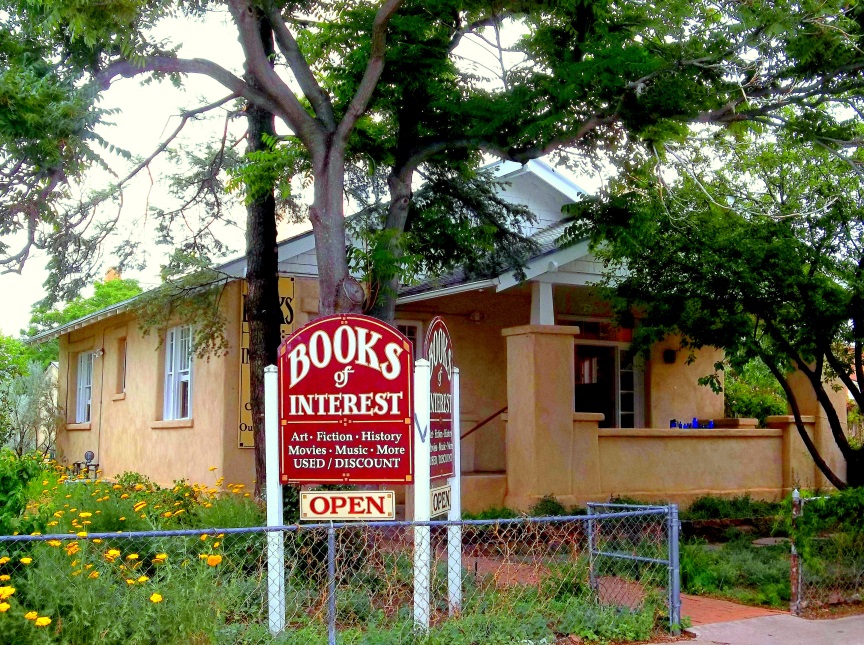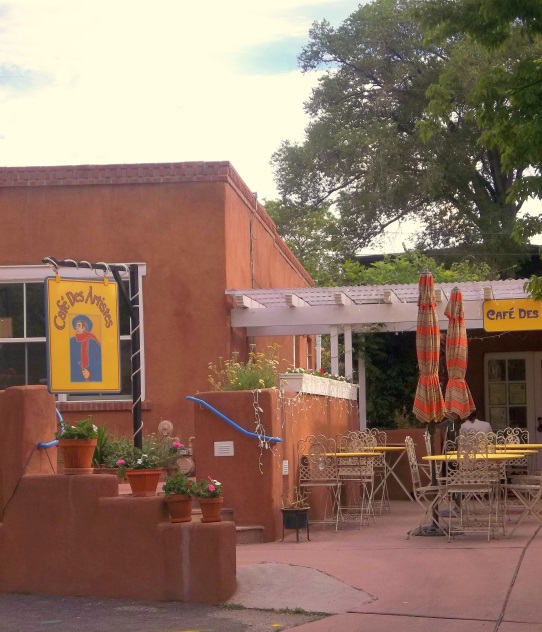 BEE HIVE BOOKSTORE is a bookstore catering only to children. Their books are new. Bee Hive is less than 5 minutes from the Aztec Café.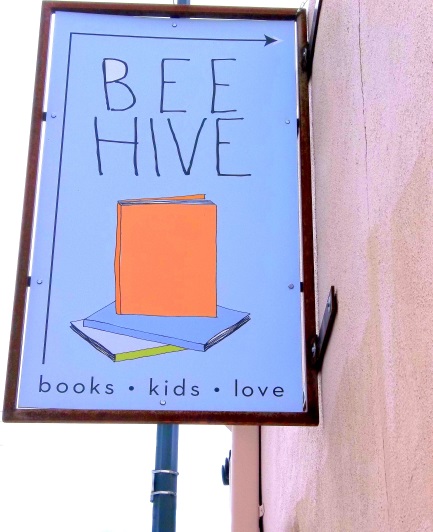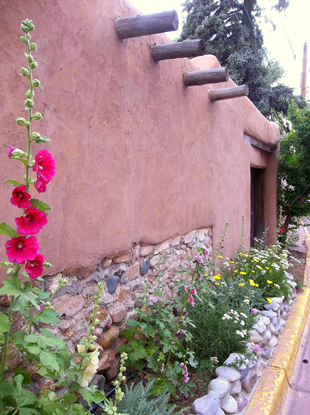 Children ONLY Books - Bee Hive Bookstore
The ARK BOOKSTORE offers spiritual, religious and holistic Books. Most are new, some are used. The Embrace Founders have been going to The Ark for about 15 years or more. They have even asked them to order special books for them. They often have authors giving talks and signing books. Just out the gate and in the railyard is the Flying Star Café - (also casual restaurant.)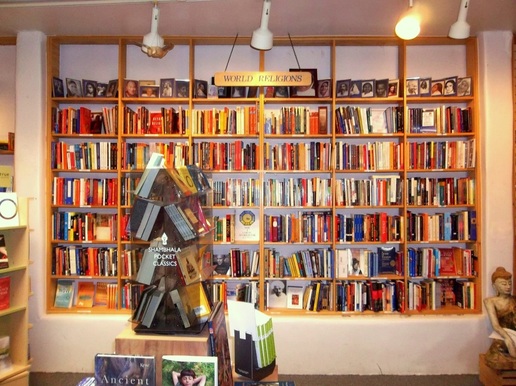 The Ark 'World Religions Section' - New Books - This store has a number of rooms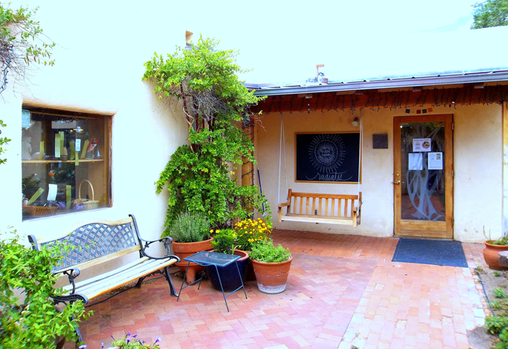 YIPPEE YI YO sells a limited but excellent selection of nature books, books of First Americans traditions, culture and history and childrens books. Just up the street is the La Fonda Café.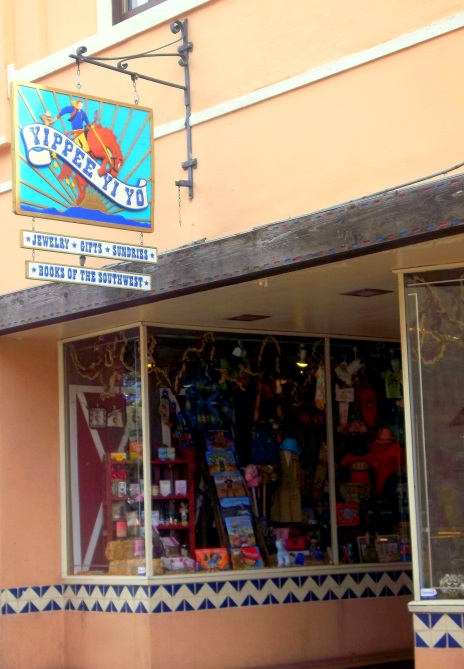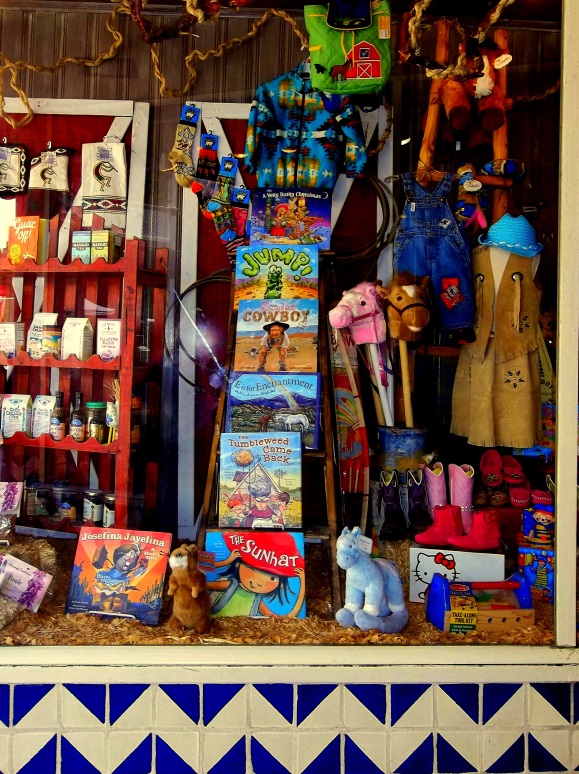 BIG STAR carries used books in all topics. Special inexpensive sale books can be found on shelves on the porch. Around the block is the Aztec Café.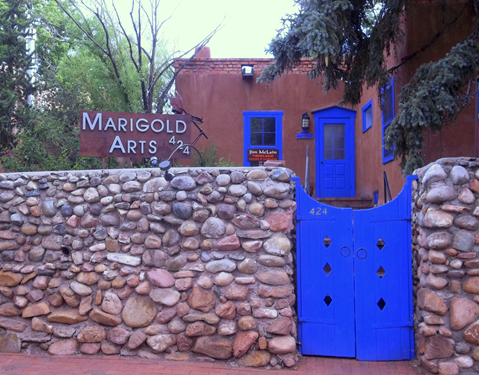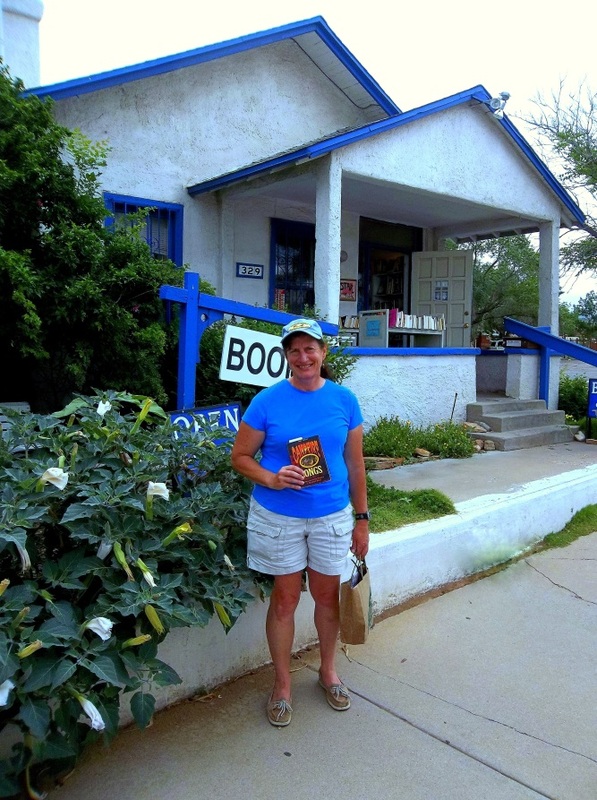 Sharin with Campfire Songs Book from BIG STAR
COLLECTED WORKS offers new books, special coffee table books, literature and books about New Mexico. It also has a café inside the bookstore.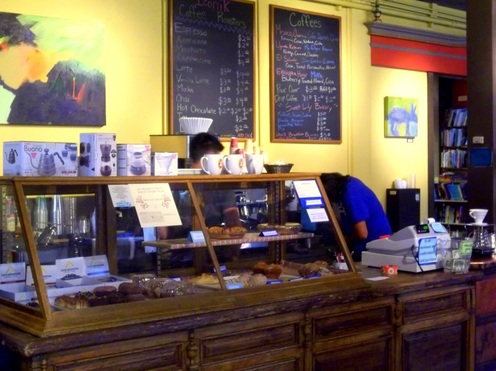 Collected Works Bookstore
GARCIA STREET BOOKS is just off of the art gallery district of Canyon Road. It sells new books many of which deal with non-fiction, art and photography. It is next to the DOWNTOWN SUBSCRIPtION café. This café has a garden patio. It is well loved by the neighborhood which keeps it busy as their regular place. If you are going to take a look at galleries on Canyon Road, there are also the Café Des Artists and the El Greco Café.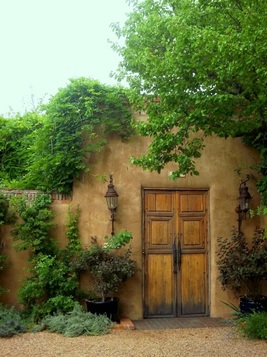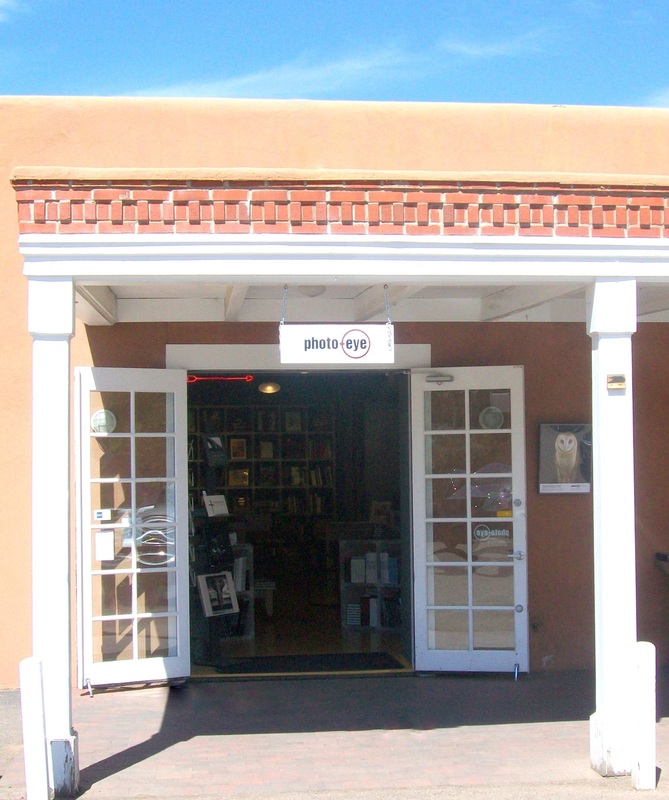 Garcia Street Neighborhood
PHOTO-EYE BOOKS & PRINTS Specializes in new and out-of-print fine photography books. Photo-Eye also publishes fine art photography books. It is next door to Garcia Street Books. For a book lover this is pretty convenient.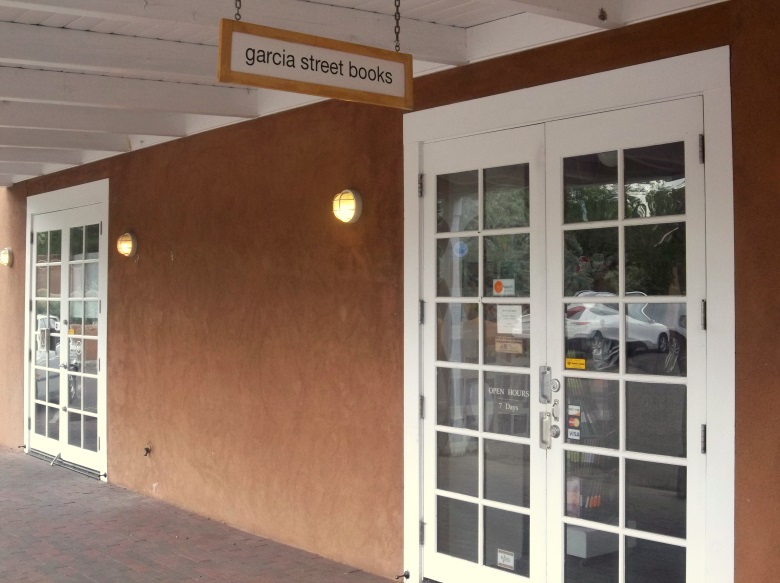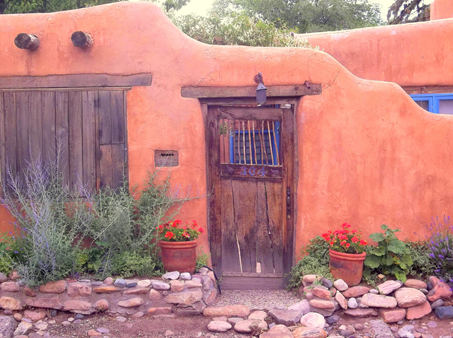 Garcia Street Neighbourhood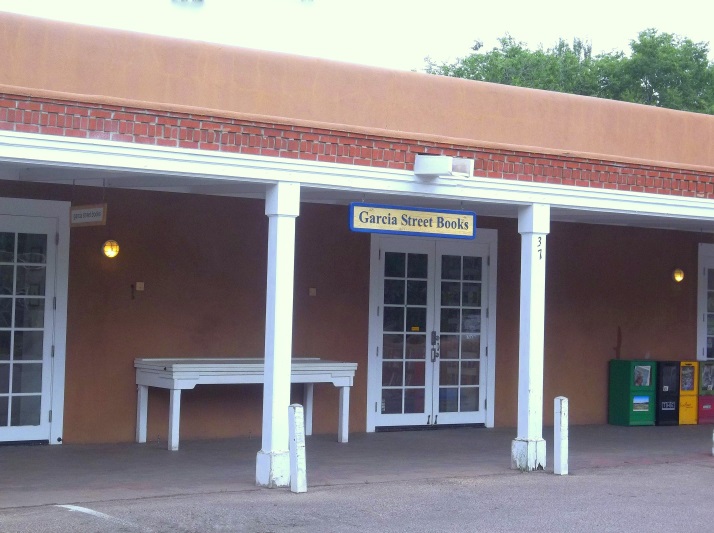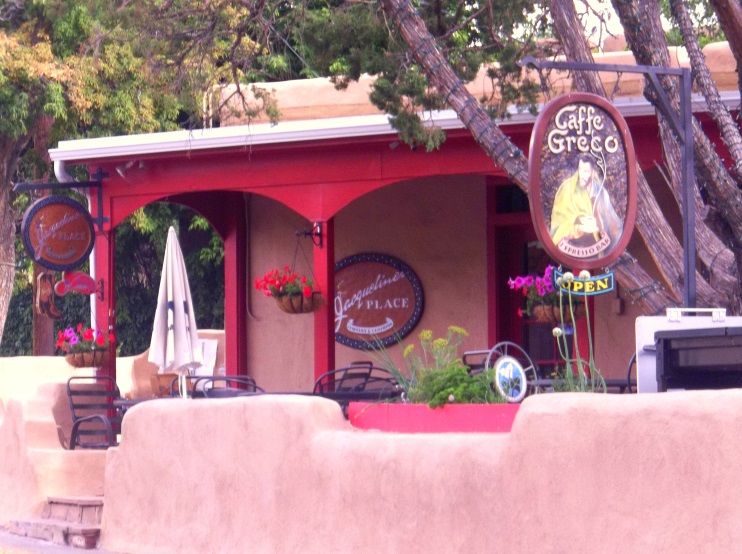 A Nearby Canyon Road Cafe
At 227 East Palace Avenue, you'll find three bookstores. At the entrance you will immediately encounter PALACE AVENUE BOOKS, upstairs in the W section you'll find RADIUS BOOKS & PUBLISHING. In section M is the much loved Nicholas Potter Books in his new location (see all three below).

At PALACE BOOKS you'll find pretty much all catagories of used books, including relgion, philosophy, psychology, New Mexico history and cookbooks etc….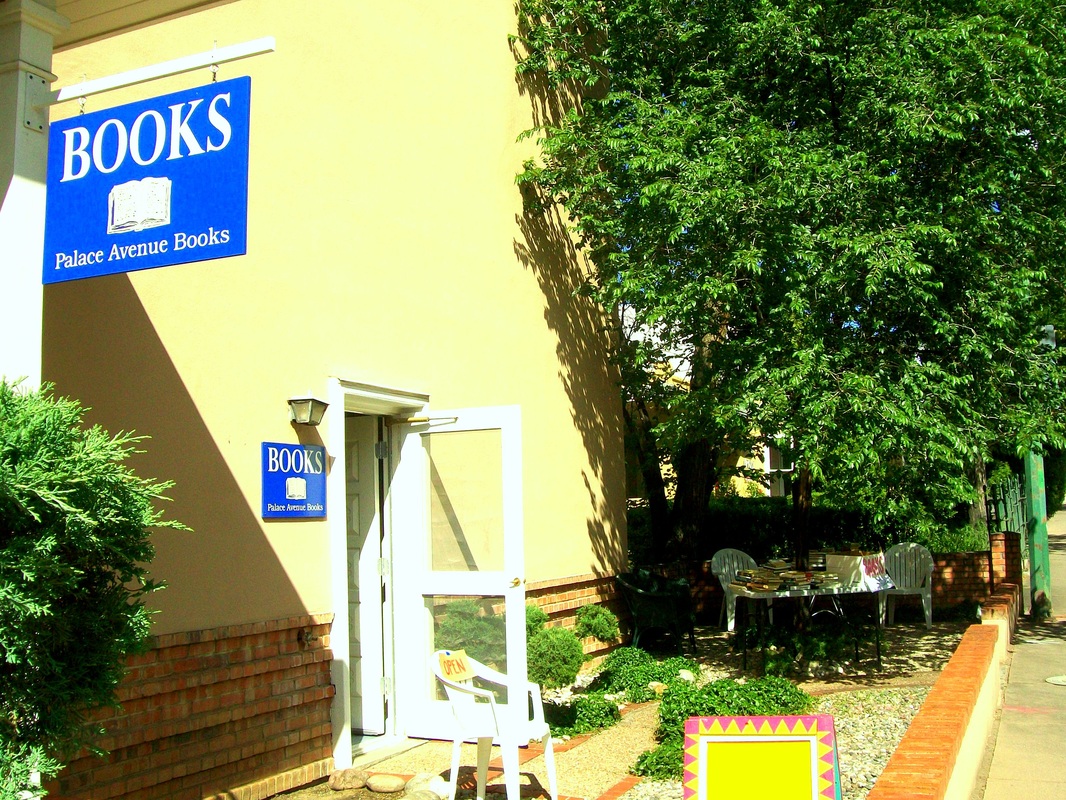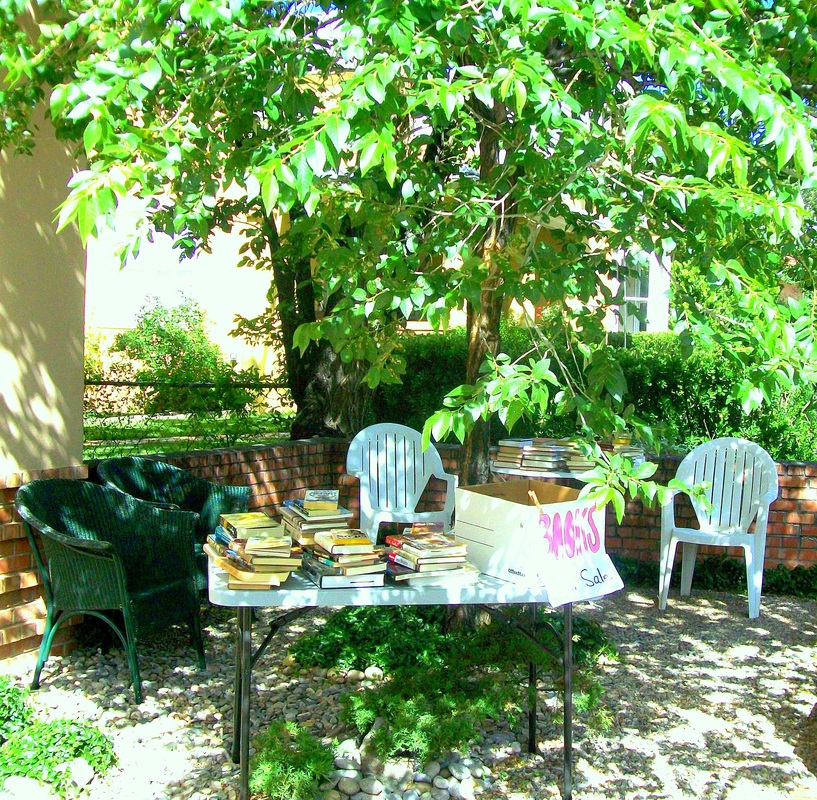 Enjoy a Book Under a Tree At Palace Avenue Books
RADIUS BOOKS & PUBLISHING is a non-profit organization which specializes in publishing fine contemporary art and photography books. They co-publish with some very impressive organizations in the art world, including the Peabody Museum at Harvard University and SITE Santa Fe.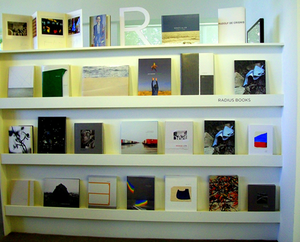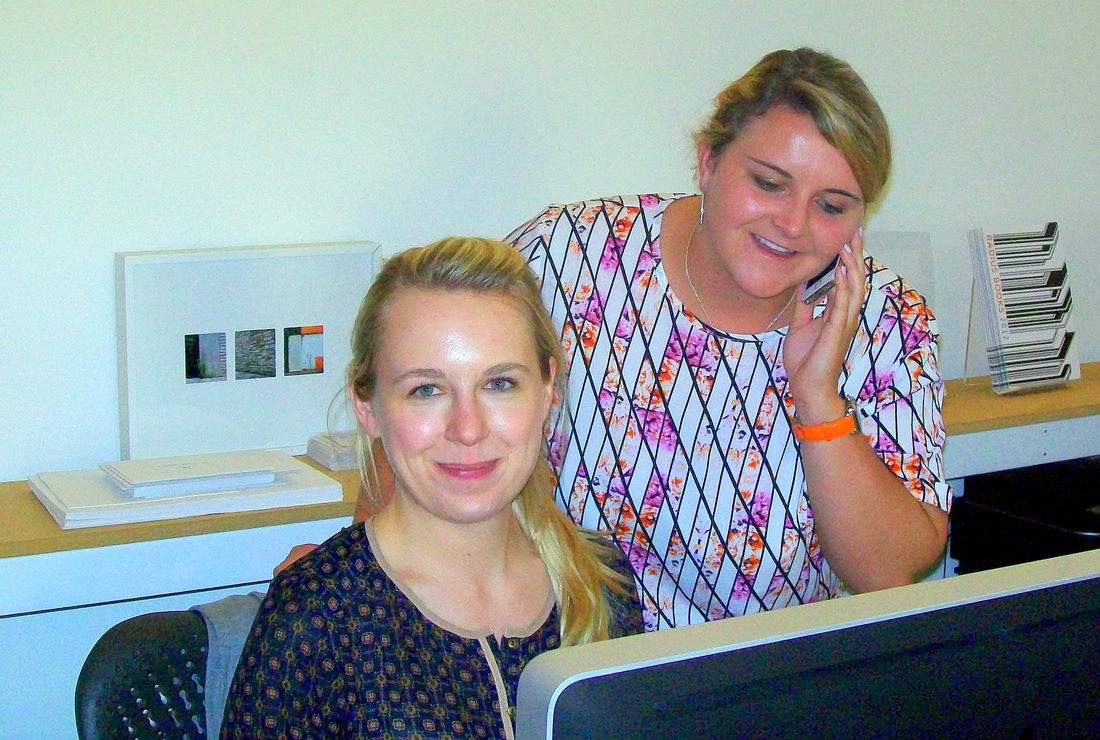 Radius Books & Publishing - Non-Profit
Radius Books Lovely Ladies

Four of Radius Publishing Most Recent Books
NICHOLAS POTTER BOOKS has been around so long, we can not remember when his bookstore did not exist. Now that they have a new location Nicholas says that they are bringing out many of their distinctive books and collections. Many of his gilt bound books will find their way into some very wealthy libraries. When we told him we had just purchased a copy of Balsac's works, he showed us a magnificent collection of many volumes of Balsac. These books may be unusual, distinctive but not necessarily 1st editions. There a plenty of books that most people can afford, as well as those who are consumate book collectors. Don't hesitate to drop by, learn and enjoy.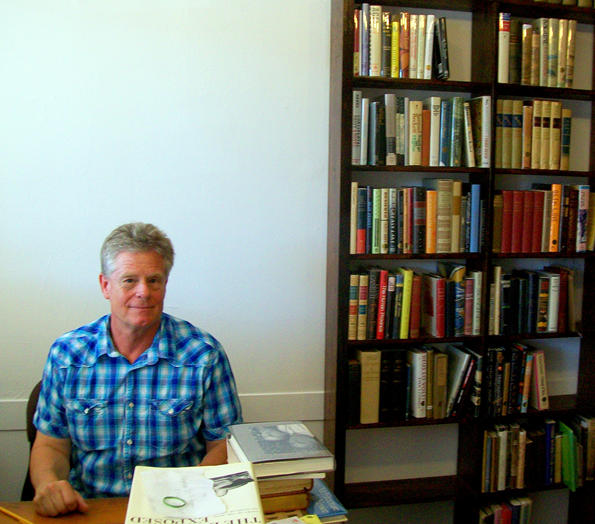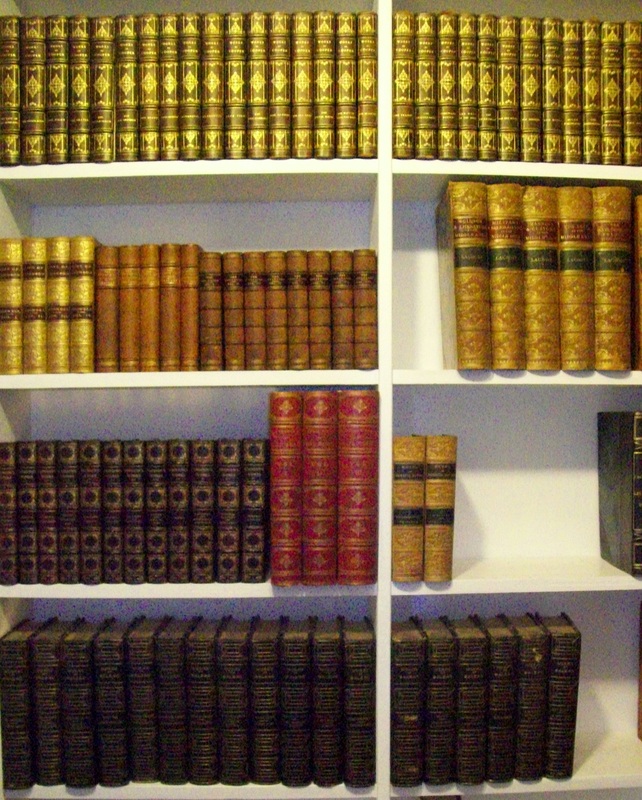 Nicholas Potter Books in His Brand New Store
Specializes in Distinctive Books & Collections
Chez Mamou is a Café & Bakery just a few steps from the bookstores at 227 East Palace Avenue. It is a great place to sit and enjoy a book while having an espresso and a French pastry.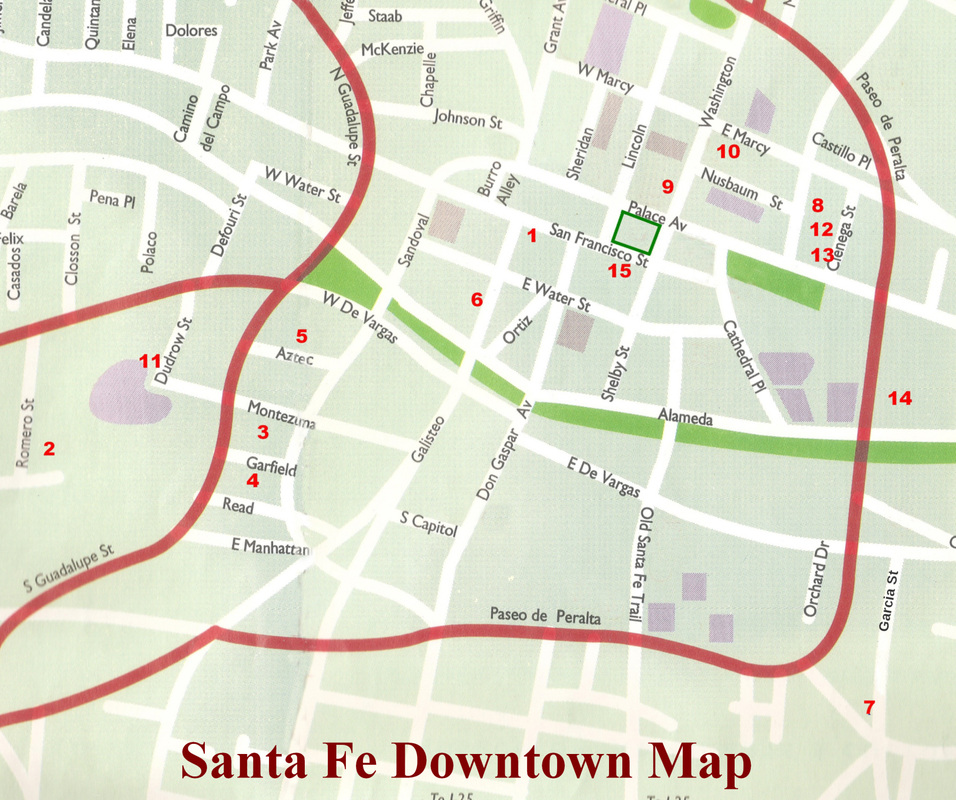 1. Alla - Worldwide Spanish Books

102 W San Francisco St. (Suite 20- Upstairs)

(505) 988-5416

2. The Ark

133 Romero St.

(505) 988-3709

3. Bee Hive Bookstore

328 Montezuma Ave.

(505) 780-8051

4. Big Star Bookstore

329 Garfield St.

(505) 820-7827

5. Books of Interest

311 Aztec Street

(505) 984-9828

6. Collected Works

202 Galisteo Street

(505) 988-4226

7. Garcia Street Books/ Photo Eye Books & Prints

(Separate Bookstores)

376 & 376A Garcia St.

(505) 986-0151

8. Nicolas Potter Books

227 E Palace Ave Ste. M

9. New Mexico Historical Library

Washington Street (Across the Street from the Main Library)

10. Santa Fe Main Library

145 Washington Avenue

505 955-6780

11. Op Cit Books

500 Montezuma Ave.

(505) 428-0321

12. Palace Street Books

227 E Palace Ave Ste. W

(505) 820-7827

13. Radius Publishers & Bookstore

227 E Palace Ave Ste. W (Upstairs)

(505) 983-4068

14. Travel Bug

839 Paseo de Peralta

(505) 992-0418

15. Yippee Yi Yo

54 E San Francisco

Please remember these are only bookstores which are inclose proximity to the Santa Fe Plaza and each other. Santa Fe has many more books a short drive away.